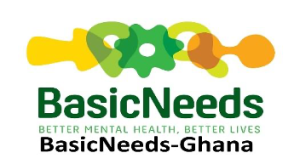 Press Statement: by BasicNeeds-Ghana
International Epilepsy Day!
14th February 2022
Every year, the second Monday of February is set aside as International Epilepsy Day (IED) to give attention to epilepsy across the globe by creating awareness on epilepsy as a medical and health condition, as a public health and development issue. This year, 2022, the day falls on Monday, 14th February 2022. This day presents another opportunity for people living with epilepsy and their families to share their lived experiences to increase knowledge and awareness and to help reduce the social stigma that is associated with the condition. BasicNeeds-Ghana joins the rest of the world to mark the day and celebrate the numerous people living with epilepsy, primary caregivers and families, as well as advocates and supporters of epilepsy.
Epilepsy is a neurological disorder that affects the brain. It is a chronic non-
communicable disease and usually occurs with seizure episodes, periods of unusual behaviors, sensations, and or sometimes a loss of awareness1. The World Health Organisation (WHO) estimates that 65 million people are living with epilepsy around the world, and many more are affected by its consequences as family members and relatives, friends and work colleagues, employers and teachers. From the "Fight Against Epilepsy" in Ghana Initiative, a WHO Programme on reducing the epilepsy treatment gap in Ghana, an estimated 1% of ,the population lives with epilepsy, representing some 308,000 people, based on the 2020 Population and Housing Census, with a treatment gap of 85% (Ministry of Health of Ghana 2018). The high treatment gap also demonstrates Ghana's healthcare services for epilepsy have not been comprehensively assessed.
Ghana, through the Ministry of Health, led by the Mental Health Authority of Ghana, in collaboration with the WHO, successfully implemented a five-year program to improve the identification and management of people with the convulsive forms of epilepsy within Primary Health Care settings. The program made it possible for nearly 100,000 people to be sensitized through community sensitization fora and contact coverage increased from under 15% to nearly 39%.
This modest but significant success adds to the years' work of BasicNeeds-Ghana and its implementation partners and the Mental Health Alliance, in close cooperation with the MHA and the Ghana Health Service.
These achievements notwithstanding, serious needs and gaps still exist that need sustained support from the highest political authority to the family and individual.
First, the political commitment of the Government of Ghana is very necessary, and it is expected that commitments efforts to address the health and wellbeing of the most vulnerable populations should equally focus on persons with epilepsy. Both supportive pronouncements and financial resources should be deployed to address the management of epilepsy and the livelihoods of people living with mental health conditions. Ghana needs a specific policy and strategic plan for epilepsy while any existing plans must be implemented within.
Families, and the general public, particularly faith-based institutions and religious authorities, traditional authorities, cultural and educational authorities and institutions, as well as human rights organizations and advocates, need to exhibit supportive leadership and care of people with epilepsy and their conditions. Pastors, prophets/ prophetess and herbalists, chiefs and queen mothers and opinion leaders, teachers and educational instructors, as well as human rights
advocates and mass media, must come on board to help educate on epilepsy and empower the persons living with epilepsy and their families and communities.
Coincidentally, this year, the IED falls on St. Valentine's Day, a day dedicated to the show of love around the world. Therefore, we wish to encourage all Ghanaians to show love towards people living with epilepsy by supporting to sensitizing the public about epilepsy and showing support for people living with the condition.
Let us all speak with one voice to promote the health and wellbeing of people living with epilepsy in Ghana.
Thank you.
Contact persons:
Sunday Atua ANABA
Project Officer, Accra
BasicNeeds-Ghana
Mobile Tel: +233(0)544033058
E-mail: sunday.anaba@basicneedsghana.org
1 Some facts about epilepsy:
     ▪ 65 million people around the world live with epilepsy
     ▪ 308,000 people in Ghana live with epilepsy
     ▪ 4 to 10 out of 1,000 people on earth live with active seizures at any one  time
     ▪ One-third of people with epilepsy live with uncontrollable seizures  because no available treatment works for them
     ▪ For 6 out of 10 people with epilepsy, the cause is unknown
     ▪ 4 out of 10 people with epilepsy in the industrialized world do not  receive appropriate treatment
     ▪ 8 out of 10 people with epilepsy in developing nations do not receive   appropriate treatment.